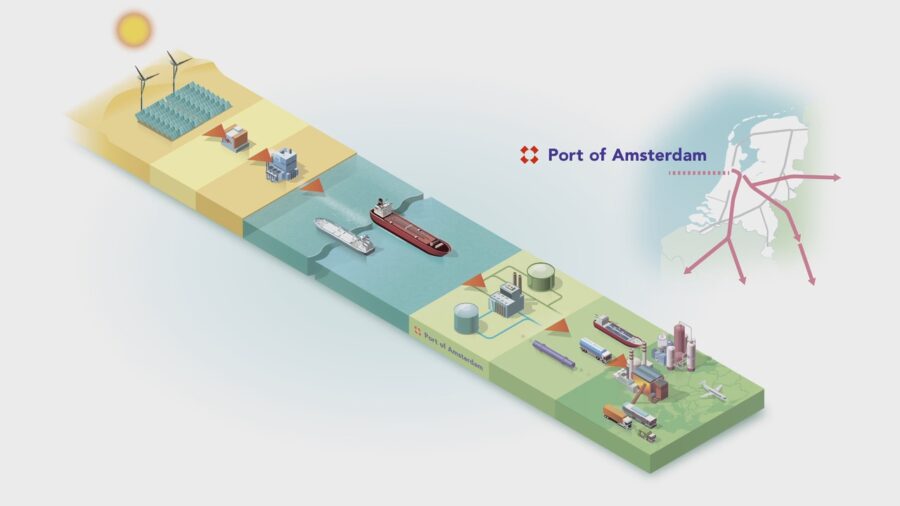 December 3, 2021
H2Gate gave blueprint for large-volume hydrogen import via Port of Amsterdam to EU Commission
Great news in the joint project H2Gate: Our consortium behind has recently handed over the blueprint for the import of one million tons of green hydrogen via Port of Amsterdam to Diederik Samsom, Head of Cabinet of the Vice President of the European Commission, Frans Timmermans.
Besides the Port of Amsterdam and Hydrogenious, the consortium is joined by Evos, HySiLabs and ElectriqGlobal. Thus, H2Gate is unique because of the synergistic bundling of multiple carrier technologies – including LOHC – that enable safe hydrogen transport, and as such represent a very attractive alternative to the safety concerns of ammonia as a hydrogen transport option and liquified hydrogen.
All partners are committed to establishing a 100% green value chain for the transport, storage, release and distribution of green hydrogen in the Amsterdam port area and its hinterland.
Since its inception last year, the consortium has made significant progress in assessing the technological, spatial and logistic requirements, downstream application areas, potential synergies and sourcing opportunities. In the coming period, the consortium will build this new supply chain step by step, together with hydrogen producers from various global regions, and off-takers.