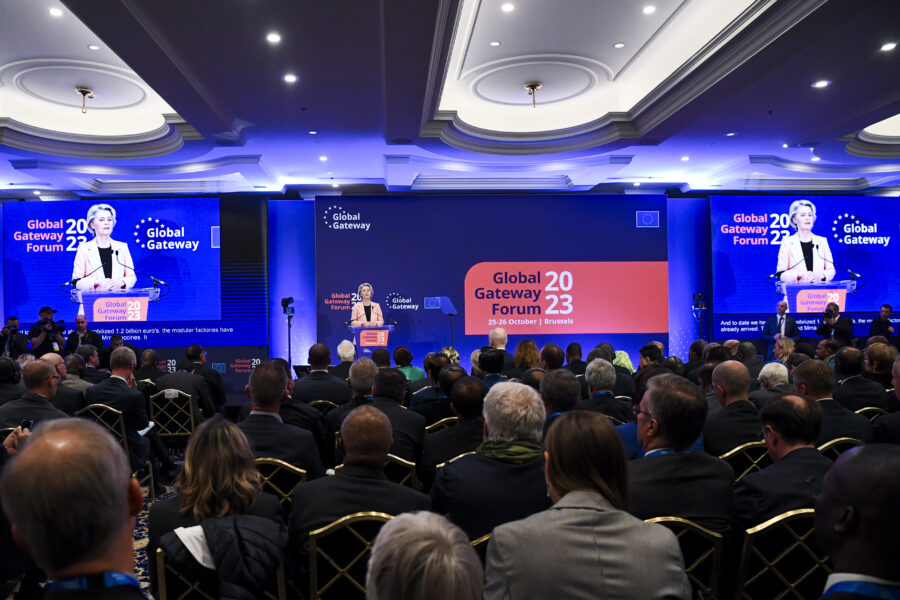 October 30, 2023
Hydrogenious LOHC Technologies joins Global Gateway Business Advisory Group
Belgium/Brussels. Hydrogenious LOHC Technologies has been selected as member of the Climate & Energy subgroup of the Global Gateway Business Advisory Group to act as a strong representative for the hydrogen sector.
On 25 and 26 October 2023, President of the European Commission Ursula von der Leyen hosted the Global Gateway Forum in Brussels, bringing together over 40 high-level government representatives from EU and partner countries, as well as representatives from financial institutions, the private sector, civil society and international organizations.
Dr Andreas Lehmann, Chief Strategy Officer at Hydrogenious LOHC Technologies, who joined the event and will represent the company in the Business Advisory Group, concludes: "It was great to see the massive interest and overall momentum, especially the large role sustainable energy and hydrogen were given during the event and in the ongoing and future Global Gateway initiatives."
President von der Leyen herself highlighted the importance of Europe's efforts in the face of the catastrophic effects of the climate crisis in her welcoming address. She mentioned clean hydrogen as a part of Europe's necessary efforts to combat climate change and accentuated in particular a need for hydrogen transport and storage solutions.
In the following leaders' session on "Green energy transition and green hydrogen", multiple voices emphasized that solutions for storage and transport are the key enabler for global and regional solutions.
Hydrogenious LOHC Technologies joins the Business Advisory Group as one of 16 members in the Climate & Energy subgroup together with representatives from other strong climate and energy players such as Siemens AG, TotalEnergies, Iberdrola, Veolia or Vestas Wind Systems A/S. "We are proud to be a strong voice for the hydrogen sector and motivated to promote Global Gateway's energy and hydrogen activities", adds Lehmann.
The European Global Gateway strategy promotes investment in quality infrastructure across partner countries to support green and digital transformation beyond Europe's borders and to improve the security of global value chains.  Global Gateway aims to mobilize up to 300 billion Euro of investment in five key sectors – digital, climate and energy, transport, health, and education and research. To support this initiative, the Business Advisory Group assists the European Commission by fostering cooperation with the European private sector and ensuring that the input from the private sector is fully factored in the implementation of Global Gateway.