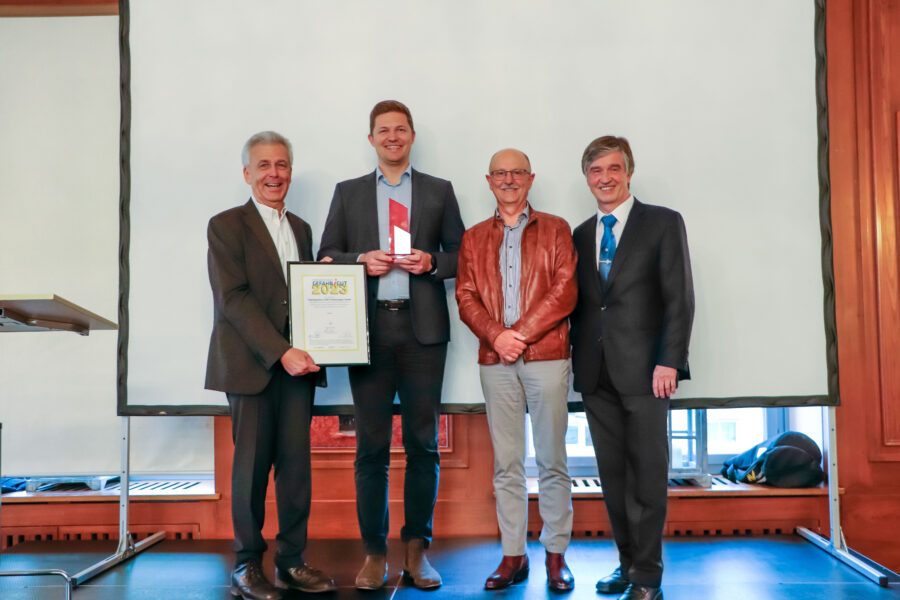 May 15, 2023
Hydrogenious LOHC Technologies receives GEFAHR/GUT Innovation Award 2023
Germany/Munich. Hydrogenious LOHC Technologies received this year's GEFAHR/GUT Innovation Award for the development and use of the LOHC technology, which enables hydrogen to be transported safely on an industrial scale. The award ceremony was held as part of the 33rd Munich Gefahrguttage (Dangerous Goods Days). Around 150 conference participants followed the evening invitation on May 15, which was held in partnership with the publishing house Heinrich Vogel.
"The LOHC technology developed by the award winner represents an important contribution to the hydrogen strategy in the opinion of the expert advisory board" Alfred Winklhofer of the German Swabian Chamber of Industry and Commerce, member of the GEFAHR/GUT expert advisory board and spokesman of the jury, explains the decision.
"Hydrogen is incredibly versatile – but in molecular form it has an extremely low density and is highly flammable. This makes it difficult to store hydrogen safely and to transport it over long distances" elaborates Hydrogenious' CEO and founder Dr Daniel Teichmann. "The fact that the experts from GEFAHR/GUT selected our LOHC technology as the most convincing solution to this challenge makes us proud and confirms once again that we can significantly improve the safety and efficiency of handling hydrogen with our innovative process."
The GEFAHR/GUT innovation award has been granted since 2003 to companies that have demonstrably successfully introduced innovative solutions that improve safety in the transport and handling of dangerous goods. The prize is awarded by the fokus GEFAHR/GUT advisory board, which consists of 15 experts from all areas of dangerous goods handling, such as chemistry, transport, training, consulting, trade, associations and authorities.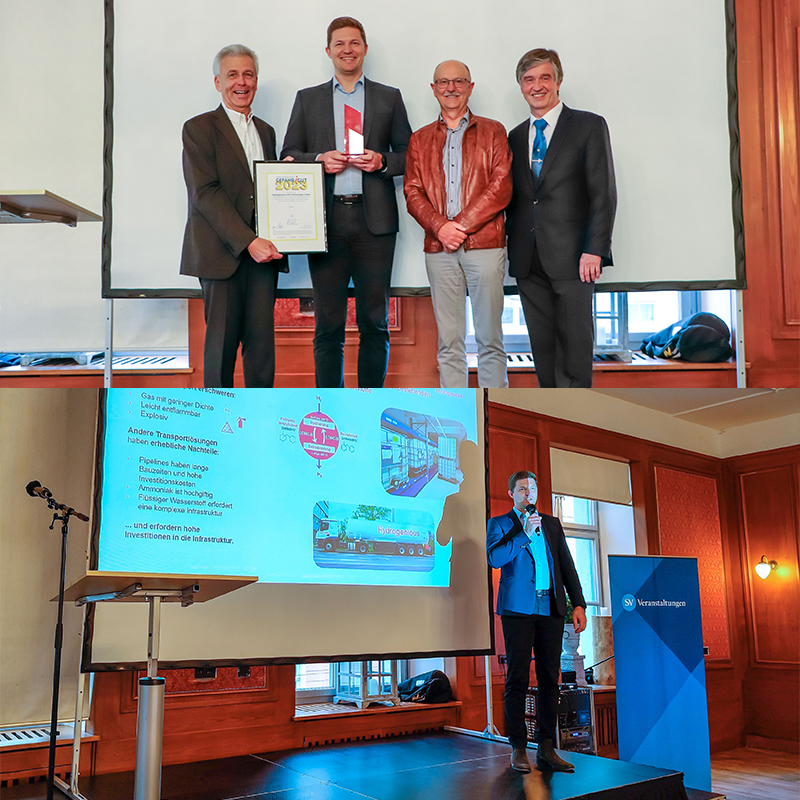 Photo for editorial use only, with indication of image copyrights:
Top Picture: Ceremony of the GEFAHR/GUT Innovation Award 2023 in Munich (from left to right: Reinhold Wurster, DWV; Daniel Teichmann, Hydrogenious LOHC Technologies; Alfred Winklhofer, IHK Schwaben; Rudolf Gebhardt, Redakteur fokus GEFAHR/GUT).
©Hydrogenious LOHC Technologies
Bottom Picture: Dr Daniel Teichmann, Founder and CEO of Hydrogenious LOHC Technologies, presenting the LOHC technology at the award ceremony.
©Hydrogenious LOHC Technologies
Download press pictures