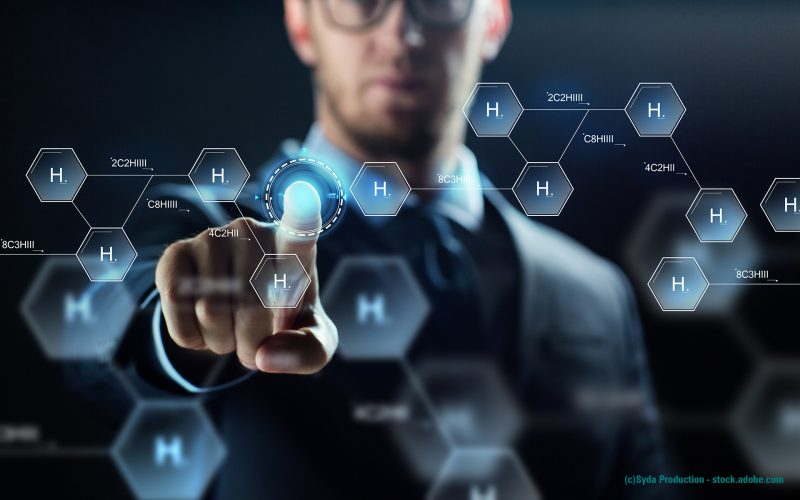 September 28, 2020
Hydrogen as a fuel of the future – Hyundai and Hydrogenious LOHC Technologies at the SHIFT Mobility meets IFA NEXT
Erlangen / Berlin – Hydrogenious LOHC Technologies, the pioneer and global industry leader in the field of chemical hydrogen storage in Liquid Organic Hydrogen Carriers (LOHC) is participating in this year's SHIFT Mobility Panel Discussion, hosted by Hyundai. On Thursday, September 3, 2020, 11.30 a.m. the high-profile forum, bringing together political and business leaders including Hydrogenious LOHC Technologies' CSO Marcus Guzmann, will focus on ways how to "fuel the future and pave the way to a hydrogen society".
On a global level the mobility and logistics sector as well as the energy sector see a rapidly growing interest in using hydrogen as the fuel of the future. However, its low density at ambient conditions and the required safety measures make hydrogen supply, storage and transport technically challenging, inefficient and comparably expensive.
Those are challenges a global hydrogen-fueled society has to deal with. Therefore Albert Biermann, President and Head of R&D Division, Hyundai Motor Group, Bertrand Piccard, Hyundai Brand Ambassador, Dr. Sae Hoon Kim, Vice President & Head of Fuel Cell Division at Hyundai Motor Group, Mark Freymüller, CEO of Hyundai Hydrogen Mobility AG, Stefan Linder, Head of Innovation & Technology at Alpiq, Georgios Chatzimarkakis, Secretary General, Hydrogen Europe, and Dr. Marcus Guzmann, CSO of Hydrogenious LOHC Technologies GmbH will address precisely these questions in the SHIFT Mobility Panel Discussion.
"Making hydrogen available on a global scale at low-cost is a goal Hyundai shares with Hydrogenious LOHC Technologies. With this common vision we will have a good base for the panel discussion as well as for future collaboration", says Michael Cole, President at Hyundai Motor Europe. Hyundai considers LOHC as a promising technology for hydrogen logistics and storage. In May 2020 Hyundai Motor Company joined forces with Hydrogenious LOHC Technologies, comprising a comprehensive technological and business cooperation, focusing on stationary and on-board LOHC-systems.
A future hydrogen society will have to import green hydrogen from regions where renewables are abundant and cheap to the locations where hydrogen and energy are needed. Green hydrogen will have to be transported through densely populated areas, through tunnels and on waterways. Hydrogen-pipelines, compressed or liquid hydrogen will not be sufficient and cost effective in every transport-storage-scenario. Green Hydrogen from local electrolyzers will not meet the market demand. "With our LOHC- based systems we offer hydrogen infrastructure solutions that bridge these gaps, enabling the safe and flexible transport of green hydrogen from cost competitive sources around the globe to any customer, wherever green hydrogen is required. Thus, our products are the basis for a global end-to-end hydrogen supply chain", states Marcus Guzmann in anticipation of the panel discussion.
The LOHC-technology provides compelling advantages to overcome hydrogen transport issues. It enables safe and efficient storage of large hydrogen quantities and makes the use of existing standard fuel tank and supply infrastructure possible. Hydrogen stored on-site can be realized even in densely populated areas. Considering the low cost of the supply infrastructure, LOHC can significantly reduce the cost of delivered hydrogen.
SHIFT Mobility meets IFA NEXT – Schedule & Participation
What: Hyundai Keynote at IFA Global Press Conference
When: 4. September 2020 at 10:45 a.m.
Where: Hall 3.2, Stage 1, Conference Center Berlin / IFA Xtended Space / YouTube
What: Hyundai Fuel Cell Panel Discussion and Hydrogen Deep Dive
When: 3. September 2020 at 11:30 a.m.
Where: Virtual Side Stage, IFA Xtended Space
What: IFA Session 5: "Co-Innovation and Integration – New Synergies and Global Perspectives on the Mobility Market"
When: 4. September 2020 at 1:35 p.m.
Where: IFA mainstage / IFA Xtended Space
How to watch: Due to the situation this year, the IFA live event at the Conference Center Berlin is not available to the general public. However, participation via the digital extension is free. To register to participate digitally as a journalist, click here (https://xtended.ifa-berlin.com/). Participants will then receive their virtual ticket via email, which will allow them to enter the IFA Xtended Space, where they can interact with virtual exhibits and watch the livestreams.