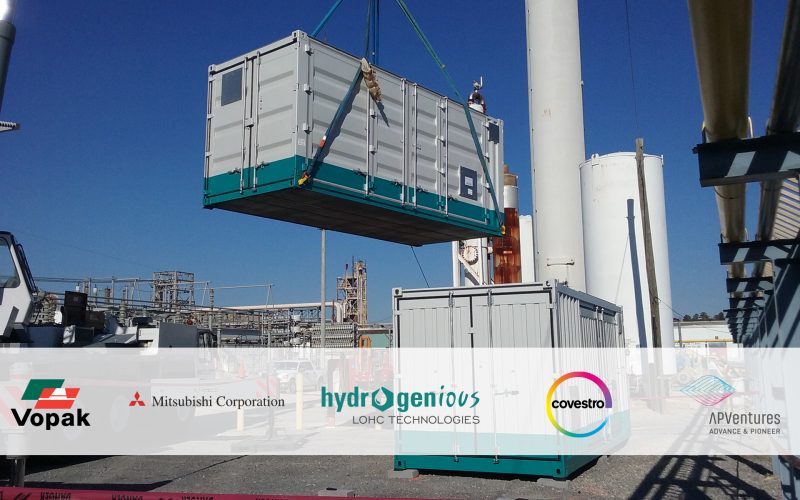 July 31, 2019
Vopak, Mitsubishi Corporation, Covestro and AP Ventures invest Euro 17 million into Hydrogenious LOHC Technologies
Erlangen, Germany, 31 July 2019 – Royal Vopak, Mitsubishi Corporation, Covestro and AP Ventures invest Euro 17 million into Hydrogenious LOHC Technologies GmbH and its Liquid Organic Hydrogen Carrier (LOHC) technology for hydrogen logistics.
With its innovative Liquid Organic Hydrogen Carrier technology, Hydrogenious LOHC Technologies was able to attract further strong partners. In addition to AP Ventures, who invested in the German-based company in 2014, Royal Vopak, Mitsubishi Corporation and Covestro joined as investors at Hydrogenious LOHC Technologies. "We warmly welcome our new investors and are very excited to work with them as strategic partners who share our vision of a LOHC-based worldwide hydrogen infrastructure," said Daniel Teichmann, CEO of Hydrogenious LOHC Technologies. "With these investments, our company will be strengthening our international industrial base, using the funding to bring additional projects to market."
The advantages of the partnership are not limited to financial support. The strategic international investors are committed to developing the LOHC technology as an essential component of the international hydrogen infrastructure. The operational expertise of Vopak and the other new investors will enable international distribution of renewable energies via hydrogen. Stored in the carrier oil, hydrogen can be transported as easily and efficiently as conventional liquid fuels. "The combination of Vopak's global terminal and knowledge network with this LOHC technology is a breakthrough in the storage and logistics of renewable energies. This strategic partnership will facilitate development of transregional and global transport of hydrogen and contribute to the development of hydrogen-based economies," said Marcel van de Kar, Director New Energies at Vopak.
"Asian countries have recognised hydrogen as a valuable energy carrier and the LOHC technology is expected to provide an economical viable solution that is ideal for storing large volumes of hydrogen in densely populated urban areas as well as distributing it over long distances. We expect that LOHC will play an important role in Asian energy market in the future," says Junya Nagase, GM for Precious Metals, Mineral Resources Trading Division, Mitsubishi Corporation.
Being one of the leading suppliers of premium polymers, Covestro sees innovation and sustainability as the driving forces behind the continuous development of any of the company's products, processes and facilities. The advantages of LOHC technology in terms of scalability and feasibility of hydrogen transportation therefore perfectly fit this approach and are exactly the advantages in which Covestro is investing. "Affordable and clean energy is a key issue for the chemical industry and we believe Hydrogen has the potential to become an important energy vector in the future. We do believe that the LOHC technology is a promising solution for its transportation and storage," concludes Dietrich Firnhaber, Head of Strategy & Portfolio Development from Covestro.
Commenting on this latest investment into Hydrogenious LOHC Technologies Andrew Hinkly, Managing Partner at AP Ventures said, "I'm delighted to welcome these new strategic investors to Hydrogenious LOHC Technologies. Daniel and his team have made significant developments in this technology during the past five years and I look forward to the next stage in the development of the business".

More about our new partners:
Royal Vopak
www.vopak.com
Mitsubishi Corporation
https://www.mitsubishicorp.com/jp/en/
Covestro AG
www.covestro.de/en
About AP Ventures
www.apventuresllp.com