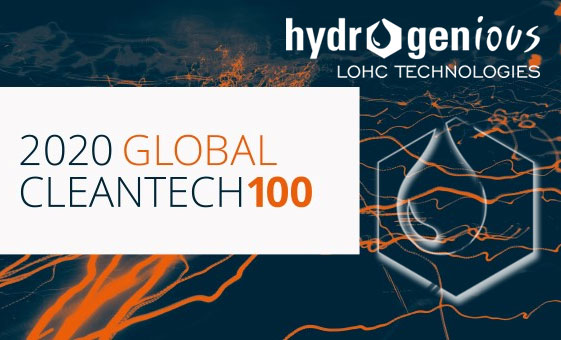 January 24, 2020
Hydrogenious LOHC Technologies on the Global Cleantech 100 list for the third year running
We are pleased to announce that Hydrogenious LOHC Technologies have earned a place on the Global Cleantech 100 list again in the 2020.
Hydrogenious LOHC Technologies prevailed over thousands of applicants from around the world. The Global Cleantech 100 includes private, independent, for-profit companies that are best positioned to contribute to a digitized, decarbonized, resource-efficient industrial future.
A global, 80-member expert panel of investors and executives from technology and innovation scouting companies selected the nominees. The outcome of this review committee resulted in a list that is respected and supported by many key players within the cleantech innovation ecosystem.
Find out more: http://bit.ly/GCT10020Yes