November 8, 2022
Hydrogenious LOHC Technologies becomes associated partner of Dii Desert Energy and member of MENA Hydrogen Alliance
Hydrogenious LOHC and Dii Desert Energy announcing partnership during 12th Dii Desert Energy Leadership Summit in Cairo
Hydrogenious LOHC also becoming member of the MENA Hydrogen Alliance
Germany/Erlangen, Egypt/Cairo. By becoming an associated partner of Dii Desert Energy, German LOHC Pioneer Hydrogenious further advances its engagement in the Middle East. The partnership underlines the joint ambition to accelerate the energy transition by establishing long distance hydrogen transport chains with LOHC, thus connecting regions with large capacities in renewable energy and industrial off-takers worldwide.
During the 12th Dii Desert Energy Leadership Summit in Cairo representatives of Hydrogenious LOHC and Dii Desert Energy met to seal the agreement and to announce that Hydrogenious LOHC is also becoming a member of the MENA Hydrogen Alliance.
Dii Desert Energy was launched in 2009 as an industry initiative in Germany (formerly 'Desertec Industrial Initiative') with the goal of improving market conditions for renewables in the deserts and for examining the synergies to be captured through connecting the power markets of Europe, North Africa, and West Asia. In early 2020, Dii launched the MENA Hydrogen Alliance, which brings together private and public sector actors as well as science and academia to kick-start green hydrogen economies.
Statements
Dr Toralf Pohl, Chief Commercial Officer at Hydrogenious LOHC:
"We see huge potential in hydrogen production in the MENA region and large-scale transportation to Europe and Asia – a perfect application for LOHC. After the establishment of our joint venture "Hydrogenious LOHC Emirates" in Abu Dhabi earlier this year, it is only natural to become an associated partner of Dii Desert Energy and a member of the MENA Hydrogen Alliance. We and Dii share the common goal to further advance the decarbonization of industries worldwide by providing clean, sustainable hydrogen and we are very excited to jointly drive forward the energy transition."
Cornelius Matthes, CEO Dii Desert Energy:
"As LOHC will play an important role for transport and storage of net zero emission molecules, Dii and the MENA Hydrogen Alliance are delighted to welcome Hydrogenious as one of the leading players in this field."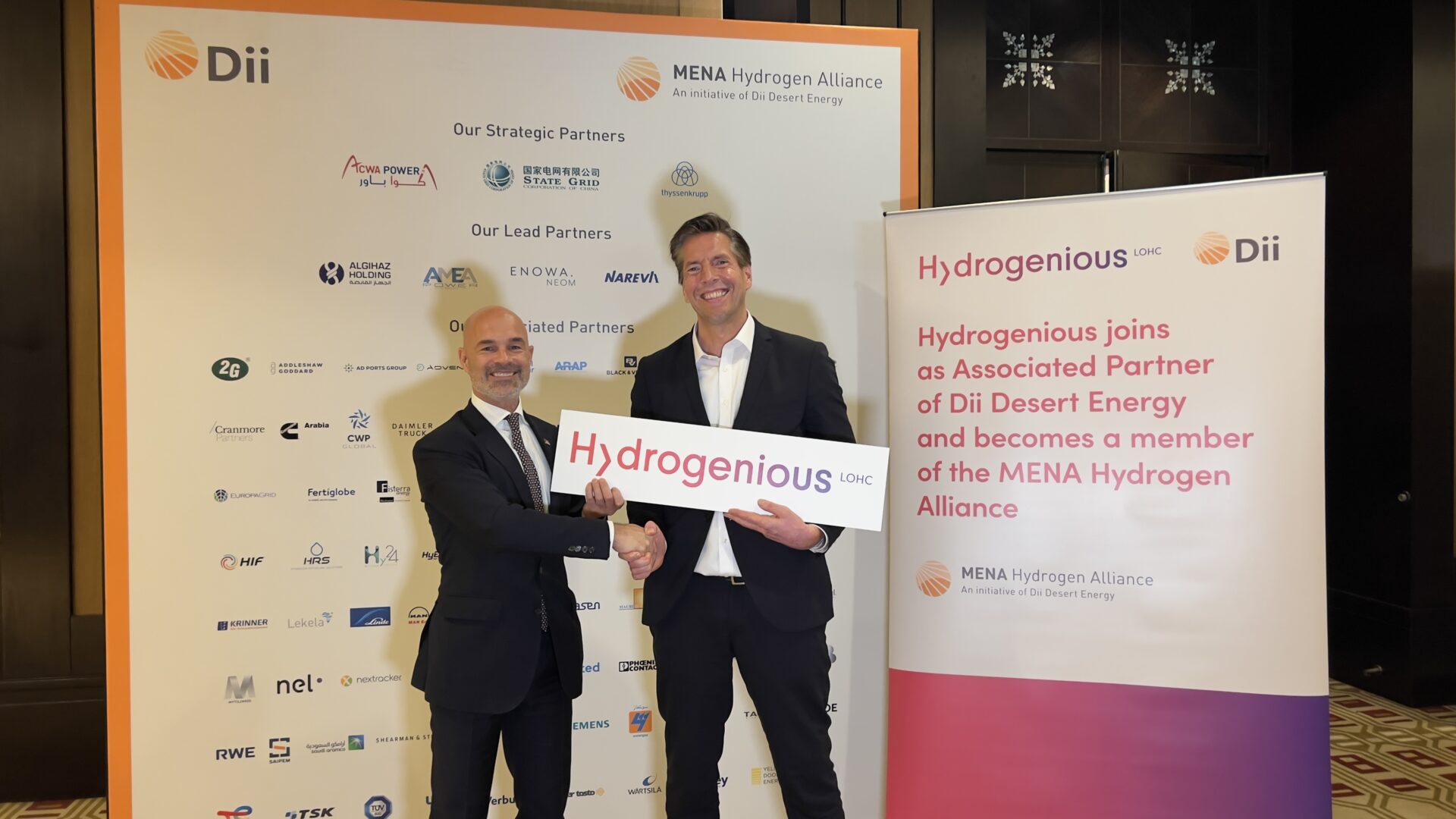 Photo for editorial use only, with indication of image copyrights:
Photo: Cornelius Matthes, CEO Dii Desert Energy and Dr Toralf Pohl, Chief Commercial Officer Hydrogenious LOHC in Cairo at 12th Dii Desert Energy Leadership Summit.
© Dii Desert Energy
Download press pictures